In testimony to the grand jury, Roedema also put McClain in a bar hammer lock. Roedema stated he "cranked pretty hard" on McClain's shoulder and heard it pop three times.
Eventually paramedics arrived to the scene. Cooper made the decision to administer a 500 mg dose of Ketamine, according to the indictment.
"A correct dosage of Ketamine is calculated according to a patient's weight, with 5 mg of Ketamine per kilogram of patient weight," stated the grand jury indictment.
"Cooper said he estimated Mr. McClain's weight to be approximately 200 pounds (90.7 kg). At that weight, in accordance with the standing order from their medical director, Mr. McClain should have been administered 453 mg of Ketamine," the indictment read.
"Cooper administered 500 mg of Ketamine. Mr. McClain actually weighed 143 pounds (65 kg) and as such his weight-based Ketamine dose should have been closer to 325 mg of Ketamine."
After giving him the dose, McClain was put on a gurney by the officers and paramedics.
"By the time he was placed on the gurney, Mr. McClain appeared unconscious, had no muscle tone, was limp, and had visible vomit coming from his nose and mouth," the indictment says. "(Officer) Roedema said he heard Mr. McClain snoring, which can be a sign of a ketamine overdose."
The paramedics found he had no pulse and was not breathing and performed CPR. He never regained consciousness and was declared brain-dead on August 27, the indictment states.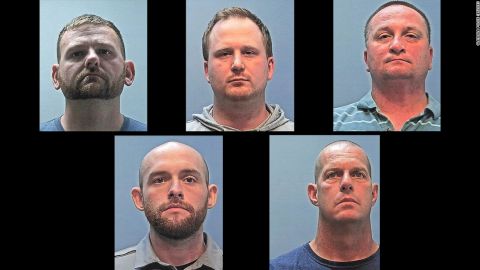 Ahead of their arraignment in Adams County, Colorado court on Friday, a district court judge ruled the trials of five defendants in McClain's death will be split.
Paramedics Peter Cichuniec and Jeremy Cooper will be tried together, but separate from the other three defendants in the case, Judge Mark Warner announced in an order issued on Wednesday.
Aurora police officer Woodyard will be tried separately from officers Roedema and former officer Rosenblatt, Warner said.