10 people were killed at a dance studio in Monterey Park, California. The assailant is still at large
Authorities are scrambling to find whoever killed 10 people Saturday night in Monterey Park, California, as the city's large Asian American community was celebrating Lunar New Year weekend.
"Monterey Park should have had a night of joyful celebration of the Lunar New Year. Instead, they were the victims of a horrific and heartless act of gun violence," Gov. Gavin Newsom tweeted.
Here's what we know:
• Early information suggests the shooter may be an Asian male, but after initial interviews with witnesses and victims, authorities have "gotten different descriptions of one suspect," Los Angeles County Sheriff Robert G. Luna said. He cautioned the investigation is ongoing. "There actually is a lot more that we don't know than what we know at this time," Luna said Sunday.
• Officers responded to a dance studio around 10:22 p.m. Saturday and found people "pouring out of the location, screaming," said Capt. Andrew Meyer of the Los Angeles County Sheriff's Department.
• The massacre took place in the Star Ballroom Dance Studio, according to a CNN analysis.
• Ten people were pronounced dead at the scene, the sheriff's captain said.
• "There were at least 10 other victims who were transported to numerous local hospitals and are listed in various conditions from stable to critical," Meyer said.
• The assailant fled the scene and remains at large Sunday morning, Meyer said he had no detailed description of the shooter.
The carnage unfolded near Monterey Park's Lunar New Year festival, which was scheduled to take place until 9 p.m. on Garvey Avenue between Garfield and Alhambra avenues.
About 65% of Monterey Park's residents are of Asian descent, according to the US Census Bureau.
It's too early to say whether the massacre was a hate crime because the motive remains unknown, Meyer said.
But the impact has already been felt among one of the largest Asian American and Pacific Islander communities in the US, the mayor of nearby Alhambra said.
"To have this tragedy occur on Lunar New Year weekend, makes this especially painful," Alhambra Mayor Sasha Renée Pérez tweeted.
"Monterey Park is home to one of the largest #AAPI communities in the country. This is a time when residents should be celebrating with family, friends and loved ones – not fearing gun violence."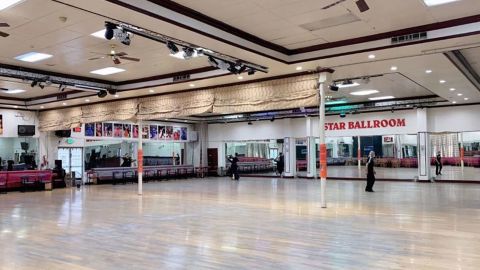 Monterey Park is about 7 miles east of downtown Los Angeles.
Past Lunar New Year events in the city have drawn crowds estimated at over 100,000 people from across Southern California, according to the city. It's unclear how many people were still gathered in the area when shots were fired